Dear Reader,
Imagine your boss walks into the room and says:
"What do we know about our users?"
You don't want to rely on recent memory alone when answering a big question like that. If you're doing Continuous Research (learn more here), you're talking to users every week, and that's a lot to remember.
Your brain is not a recording device, and humans have a tendency to favor recent events over historical events. (known as Recency Bias).
How do you provide categorized qualitative evidence that takes multiple users into account? You can't rely on the memory of your researchers.
You're going to need to do some work to make your data more useful and searchable. Luckily, there is a model for organizing research called Atomic Research.
What is Atomic Research?
Atomic Research provides a model to help you categorize qualitative information. It breaks the learning down into "atoms" smaller than a research report and, ultimately, more valuable.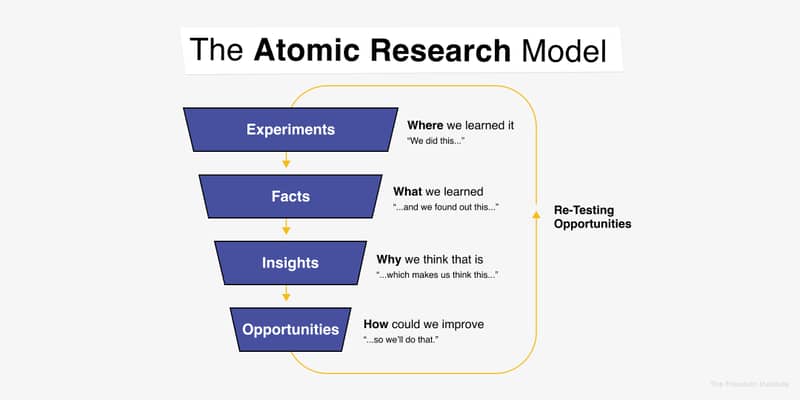 After breaking the qualitative learning down, you get these searchable atoms or "nuggets" built around your research insights.
You might recognize a similar approach to Brad Frost's approach for design systems called Atomic Design. It's the same approach, but it's applied to research instead.
​
Once the findings are broken down, they should be tagged and organized in a wiki or research repository (think Dovetail or even Notion) to inform future work, not just the current project.
These atoms can then be re-tested or combined with other atoms to form evidence for a new solution. This encourages more evidence-based research.
The Big Idea: Atomic Research is a system for breaking down UX data into a format that makes it more useful for the whole organization.
We live in a searchable age. If your UX data isn't findable, you might find that your research isn't as valuable as it could be.
Problems that Atomic Research can alleviate:
Research is forgotten

People don't know about studies outside of their team

Research is repeated for every new project

Researchers spend too much time fielding requests

Research insights lose value due to a lack of context

Opportunities from research findings aren't pursued

Research is only surfaced in a lengthy report or a presentation
Today, the world is drowning in data. You can easily find numbers for any aspect of a business.
While Companies are crunching the numbers and figuring out the what with quantitative data, they're missing out on the why. That's where qualitative UX research can help.
But if it only lives in the memory of researchers, it's not going to help. Atomic Research is a tool to help you democratize research.
​
Upcoming Live Courses
---
ONLINE MEETUP: DesignOps vs. Design Management​
​Learn about the overlaps and differences between DesignOps and Design Management.​
​December 13, 2023​
​Reserve a seat​
---
Designing UX Strategy: LIVE
​Learn to build a winning strategy that aligns design with business.​
​February 5-March 18, 2024
​Learn more​
---
Facilitating Workshops: LIVE
​Learn how to design creative working sessions and lead collaborative work.​
​March 11-April 18, 2024
​Learn more​
---
​
Until next week, check if the Atomic Research Model can help you organize your research data.
Jeff Humble
​Designer & Co-Founder
​The Fountain Institute
​
P.S. We've got a whole class dedicated to Atomic Research in our UX Research course starting next week. Get a preview of the content in this FREE 60-minute masterclass​