Dear Reader,
You hear Slack's familiar "sweep, pop, pop, pop!"
It's your CEO. She writes: "Can you make a UX strategy for us?"
Does she know what a UX strategy is? Should you know?
The weird thing is, you suspect that she knows that neither of you knows what making a UX strategy means.
Sure, you skimmed that book by Jaime Levy, and you read a few articles on it. But you don't really know how to make one, and you don't get why you should.
Today, I want to talk about why a CEO might expect strategy from a UX designer and why it's still important in 2022.
Why is UX strategy important today?
The other day I was talking to a leader in UX strategy, and she was commenting on how different UX strategy is today compared to ten years ago.
When she first started writing about UX strategy, it was an activity, not a role. The idea that UX people could work on strategic projects that were as big as the business was very new in 2015.
In the past five years, a giant wave of UX designers is joining the profession to fill the need for better digital experiences. A lot of UX designers today missed the initial wave of UX strategy.
Today we have over a million (around 1,420,000 according to Linkedin) roles in "UX strategy." What are all of these designers doing? Do they make UX strategies all day, every day?
There's a big difference between the activity of UX strategy and the role. I have an assumption that most people that put "UX strategy" in their title have never actually made a UX strategy. To them, "UX Strategist" means "I'm a great UX designer that works on big, important stuff."
But the artifact of UX strategy is needed now more than ever.
Why UX strategy isn't going away...
What problem is a UX strategy artifact the solution to? It must serve some kind of purpose for it to be so popular.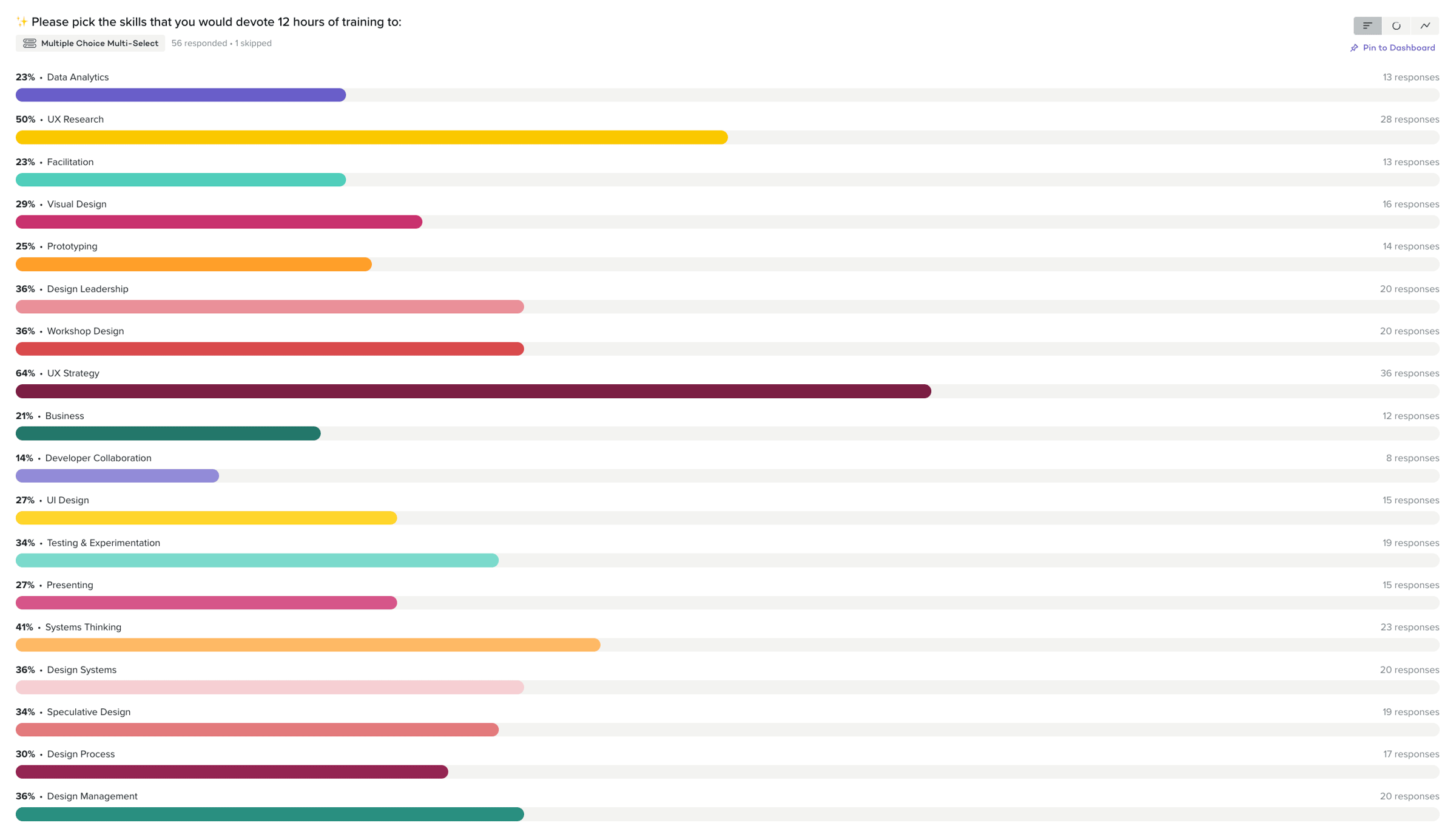 Here is an incomplete list of problems that a UX strategy can solve.
Muddy UX: Your customer has a hard time navigating the user experience of your product, and nothing is simple
Irrelevant UX: New competitors are popping up with better UX, and you're not sure how to keep up with the innovation
Lack of Prioritization: The backlog of UX issues is so messy and convoluted that you don't know where to start
Unfocused Teams: Designers move in different directions so no team-wide progress is made on the UX
No Measurable Goals: The design team doesn't have outcome goals or make measurable progress toward design-specific goals
Painful Decision-Making: Every decision about the UX is a battlefield where tech and business stakeholders always dominate
These are just a few of the messy problems that can arise when the complexity of a growing UX practice has no direction.
Design has the difficult task of providing a good user experience on a million different screens and in a million different contexts...a UX strategy can add some focus to that mess.
As long as design teams want to move in the same direction, there will always be a need for UX strategy.
What is UX strategy, really?
I admit, it's a tough concept, and it's hard to find a concrete definition.
Want to learn more?
​Sign up for the email short course on UX strategy→​
You'll learn the basics of UX strategy, the skills needed, and what makes a good UX strategy.
Remember, UX strategy is just like any other design project.
Take a deep breath and explore those strategic problems.
Jeff Humble
​Designer & Co-Founder
​The Fountain Institute
​
P.S. We just announced May's Meetup, Tackling Taboo: User Research in SexTech with Lex Gillon. RSVP here.​