Dear Reader,
"Check it out and leave me some comments!"
These are famous last words for a UX researcher.
When I said them, I was pretty new to doing research at companies, and I had just shared an academic-looking document with my product team.
I thought I was clever for using a Google Doc so I could gather comments on my report.
The only thing I got was a few pity comments from my boss.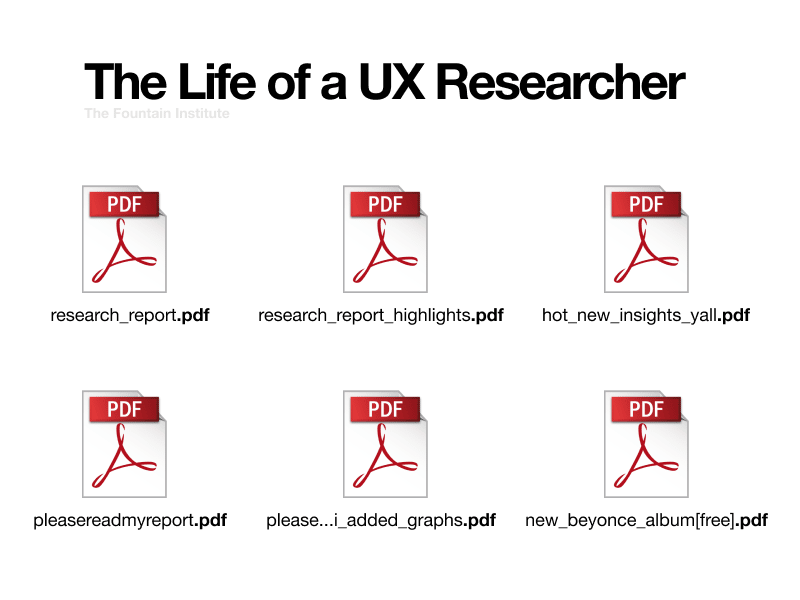 I should have known better.
That same boss used to print out research reports she wanted me to read. She would leave them on my desk because she knew that was the only thing that worked.
When it came to reports, she understood what I didn't.
Expecting unrealistic behavior
Ironically, I was a designer doing research, and my research report was completely undesigned.
I turned off my design brain and sent out a barely-formatted report.

Why do we put important things above the fold on websites?
Why do we add bullets, drop-downs, images, and clear navigation?
We do that because we know the truth…nobody reads.
At best, people skim tell you they read (try using a PDF heatmap if you don't believe me).
Consider your front-end developer. Consider your UI designer. Do they want to read your 72-page report?
We don't expect this much from users, and we probably don't even follow this unrealistic behavior ourselves.
Beyond Static Deliverables
Your research report is like any piece of content. If it's too hard to consume, people won't. Think highlights reel or movie trailer...not early draft of the script.
Try formatting it like a newspaper article with the most important thing first. Use the Minto Pyramid if you need some guidance.
As for the report format, maybe it's time you let go of those PDFs and Google Docs.
UX Research, meet Content Design...🤝
Here are 10 ways to go beyond the Google Doc with your Research Reports.
(ordered from easy to difficult)
Learn how to move beyond research reports in this talk from UX researcher, Basim Al-Baker​
Beyond Deliverables
It takes work to help people understand.
Of course, you could go beyond deliverables and involve the team instead. It's also a great way to get the whole team to research every week.
It's easy to complain that nobody does research, but it's hard to do something about it.
This video is how you can do something about the lack of research at your company.
Bonus: if you're bringing the team into research activities, you don't have to make a research report ever again.
Watch the video here:
​
Until next week, stop reporting and start inspiring!
Jeff Humble
​Designer & Co-Founder
​The Fountain Institute